Presto Sing Ireland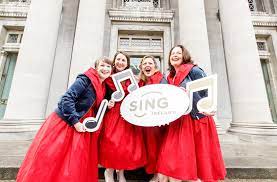 Sing Ireland: Leading, Enabling and Connecting Communities of Singers in Ireland. Enhancing life through singing.
Sing Ireland is the new name for what was formerly known as The Association of Irish Choirs.
Youth singing development is a policy priority for Sing Ireland. Children who study music tend to have larger vocabularies and more advanced reading skills. Children engaged in group singing use their imagination to excite audiences during performances, they engage with a multitude of cultures and languages and can build relationships and break down boundaries within their communities.
Through sustained and active engagement with youth singing development, Sing Ireland aims to create a strong foundation for the group singing eco-system in Ireland. There is an identified lack of appropriate resourcing and positioning of the group singing sector in Ireland.
With sustained and developmental interaction with singing, young people in Ireland can see singing as a normal part of their lives and so this will continue into adulthood where they will value singing, join choirs and singing groups, encourage further support for group singing nationally and contribute to a richer singing environment from the bottom up and with pathways of progression being built from the top to meet the flourishing youth engagement.
Sing Ireland develops and supports all forms of group singing in Ireland. It does this by providing quality experiences through activities led by Sing Ireland and by supporting the work of our members and the wider choral sector.
The Vision of Sing Ireland is a nation that is fully immersed in quality group singing experiences. People living on the island of Ireland will value, recognise and experience the life-changing ability that singing has to impact on their health, creativity, and well-being.