The Building
As the monastery building is currently undergoing renovations, study programmes of the Institute are held in the Old Calvinist College ('Református Ókollégium' in Hungarian) under Kálvin tér 1. (the same building as the Ráday Museum of the Calvinist Church). Student accommodation is arranged on an individual basis, in approved rental apartments in the city of Kecskemét.
The MONASTERY BUILDING is closed for renovations. Thank you for your understanding!
The history of the monastery building
Between 1973 and 1975, a former Franciscan monastery (erected in 1736) in the centre of the city of Kecskemét was rebuilt to house the Zoltán Kodály Pedagogical Institute of Music. The reconstruction was designed by architect József Kerényi, who in his design was mindful of both historic preservation and practical needs.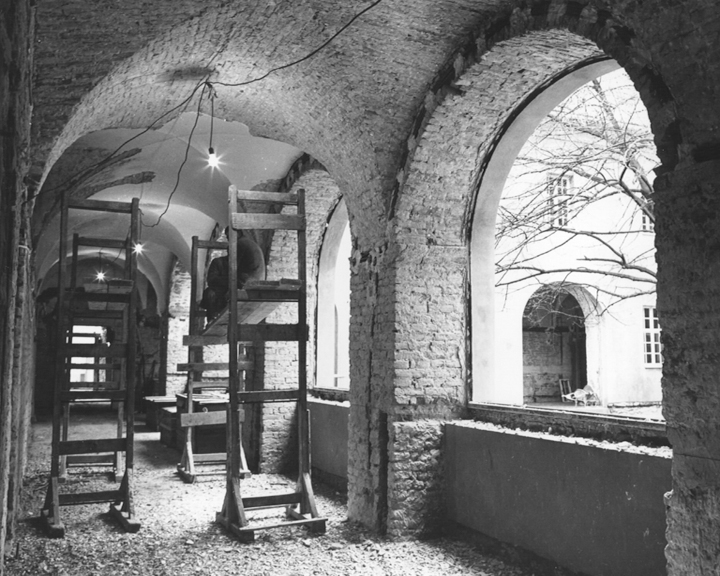 According to the records of the Historia Domus of the Franciscan Order, construction of the original building took place in several phases. Firstly, a courtyard wing was built between 1700 and 1702. Subsequently, the street front and another courtyard wing housing the refectory (today's concert and lecture-hall) were built between 1722 and 1724. It is most likely that the remains of the medieval loop-holed tower became part of the cloister during this phase. A memorial tablet discovered in the original building bears an inscription which suggests 1736 as the year of construction. This tablet is currently on display by the staircase landing.
Because of the strict poverty vow taken by mendicant friars, no ornaments or works of art characteristic of the Baroque style could be found in the cloister (the rococo stone ornament around the dining room doorframe was made in 1761). Neither stuccowork nor frescos are to be found inside the building, and the facade lacks the architectural features that typify the Baroque style. In spite of this, the white-washed walls and gently sloping arches create a solemn atmosphere.