The Building
Between 1973 and 1975, a  former Franciscan monastery (erected in 1736) in the centre of the town of Kecskemét was rebuilt to house the Zoltán Kodály Pedagogical Institute of Music. The reconstruction was designed by architect József Kerényi, who in his design was mindful of both historic preservation and practical needs.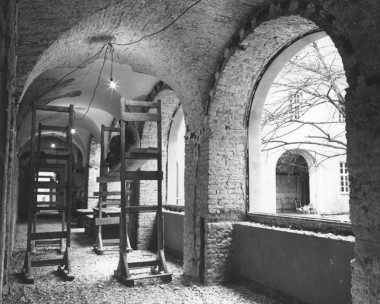 According to the records of the Historia Domus of the Franciscan Order, construction of the original building took place in several phases. Firstly, a courtyard wing was built between 1700 and 1702. Subsequently, the street front and another courtyard wing housing the refectory (today's concert and lecture-hall) were built between 1722 and 1724. It is most likely that the remains of the medieval loop-holed tower became part of the cloister during this phase. A memorial tablet discovered in the original building bears an inscription which suggests 1736 as the year of construction. This tablet is currently on display by the staircase landing.
Because of the strict poverty vow taken by mendicant friars, no ornaments or works of art characteristic of the Baroque style could be found in the cloister (the rococo stone ornament around the dining room doorframe was made in 1761). Neither stuccowork nor frescos are to be found inside the building, and the facade lacks the architectural features that typify the Baroque style. In spite of this, the white-washed walls and gently sloping arches create a solemn atmosphere.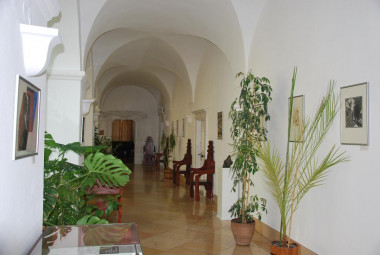 Today, the aesthetic appearance of the interior is made complete by a small exhibition of Kodály's life and work, fine furniture and artworks. A few of the original doors were retained, as were some wood carvings and the wooden panels of the former refectory. New furniture was designed for the Institute by Gábor Mezei, who in his design combined the stylistic features of the Baroque with those of the Hungarian folk art tradition. The carpets were designed by Éva Németh, and the ceramics by János Probstner.
Among the works of art to be seen in the Institute, special mention should be made of the bust of Kodály at the main gate designed by Miklós Borsos, as well as two works inspired by the composer's Psalmus Hungaricus: a wall-hanging by Ilona Fürtös (beside the Kodály exhibition on the ground floor) and drawings by János Kass which can be seen in the corridor. A smaller bust of Kodály, by Pál Pátzay, can be seen in the staff room. The wall-hanging on display in Room 3 was designed by Károly Klimkó.
Designed also by József Kerényi, the new building was erected in the rear courtyard in the early 1980's. It houses offices, classrooms, a library and an audio-visual studio.