Kodály Seminars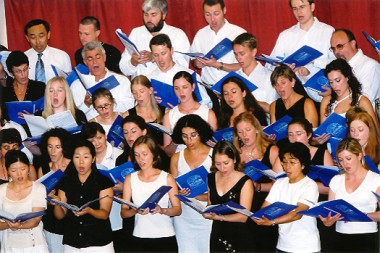 In its programme of studies the International Kodály Seminar offers the opportunity for an introduction to the Hungarian music teaching system and methods, as well as further training. 
The Seminar is organized every year. 
The Kodály Music Festival is held in conjunction with the Seminar.
Visit our Photo Gallery or facebook to see some photos of previous seminars.
BRIEF HISTORY OF THE SEMINARS
The Institute started its public operation by organising the 3rd Kodály Seminar. Since then there has been a biennial International Kodály Seminar. (Before the Institute opened two International Kodály Seminars were held in Kecskemét in 1970 and 1972.)
The aim of these courses has been the comprehensive and many-sided demonstration of the Hungarian music education both in practical work and in the pedagogical, historical lectures. The programme consists of daily solfege lessons and methodology classes as well as conducting lessons, demonstration classes, choral singing and concerts.
Each Seminar has brought some new features. For example, in 1980 as well as the regular lessons special courses were organised. One group of participants dealt with the characteristic features of Kodály's and Bartók's work. Another group participated in an intensive choral conducting course. This Seminar was the beginning of the choral camp held for music college students.
In 1982 the Tenth International Kodály Seminar was one of the outstanding events of the Kodály Centenary. The program focused on the many-sided approach of Kodály's lifework. The International Choral Camp performed with the Jeunesses Musical World Orchestra Kodály's Te Deum of Buda Castle which was conducted by Hiroyuki Iwaki.
In 1987 the International Kodály Symposium was held in conjunction with the Seminar. That summer a new programme started. In addition to the regular programme workshops on different topics were offered ( e.g. folk music, music analysis, Bartók's and Kodály's lifework, methodology, etc.)
Since 1993 different courses have been offered for the participants including a Pedagogical Course, an Intensive Choral Conducting Course, a Music Analysis Course, a Singing Course, etc. Internationally well-known experts and former students of the Institute have been invited to the Faculty of the Seminar.
The Jubilee 20th International Kodály Seminar was held in 1999. The 14th International Kodály Symposium was an integral part of the Seminar during which internationally distinguished experts of the Kodály concept held lectures.
Over the last 50 years during the Seminars there have been approximately 3000 participants from more than 40 different countries.