Accommodation
During the renovation period, starting in 2018, the Institute cannot provide accommodation. 
Students will be individually assisted to find suitable accommodation in Kecskemét. 
Accommodation prices vary depending on the size of the flat or the number of people renting it.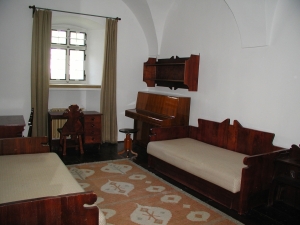 The Institute has single, double and triple rooms with upright pianos, hot and cold water sinks.
Participants of the MA and Diploma Courses live in these rooms on the upper floor of the Institute.
The dining room and kitchenette with electric stoves and refrigerators are for students' use.
They are responsible for their own meals. 
Bed linen, kitchen utensils, washing machines and dryers are provided by the Institute. 
If there are more requests for one type of room than available space, then the order in which the applications were received will be the deciding factor.
As the number of beds and rooms in the Institute are limited, not all participants of the one-year courses may be accommodated in the Institute.
Upon request we can help find apartments in town for those who would like to live on their own.
Fees per month, per person without meal:
Single room: 55.000 HUF
Double room: 45.000 HUF
If someone lives alone on her/his request in a double room: 80.000 HUF
Triple room: 35.000 HUF
If two students live in a triple room: 50.000 HUF
These fees include all utilities (heating, electricity, water).
Participants in the various other programmes (summer seminar, short courses, etc.) are generally accommodated in hotels or hostels.