Presto National Youth Choir of Scotland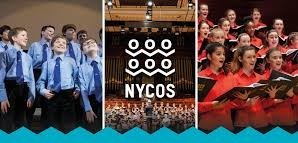 The National Youth Choir of Scotland (NYCOS) is the organisation dedicated to encouraging singing for young people in Scotland. It provides opportunities for young people, teachers and choir directors to support and develop choral singing across Scotland. Founded by our Artistic Director Christopher Bell in 1996, it has worked with thousands of children and young people who were born, resident or studying in Scotland or of Scottish descent, and 2,500 sang with NYCoS last year.
At NYCOS there are three main areas of activity SING. LEARN. CONNECT.
SING: it consists of 7 national choirs, including the internationally renowned National Youth Choir of Scotland, a network of 15 Regional Choirs across the country
LEARN: 5 Mini Music Makers groups for very young children and a considerable Creative Learning Programme that engages in a wide range of activity and training for children, young people and adults (mainly teachers of the school sector and choir leaders).
CONNECT: The staff of NYCOS believes that inclusion and progression go hand-in-hand and they work to ensure that the greatest number of children and young people can sing with NYCOS. At the heart of everything they do are quality and high standards, be it for a child in nursery or a pre-professional member of the National Youth Choir of Scotland. As an organisation which promotes excellence, it ensures that all staff are highly trained and it continues to develop training programmes for adults. The ambition is to increase opportunity and participation by ensuring children and young people can sing with NYCOS, whatever their circumstances.
The Creative Learning Director, Lucinda Geoghegan is passionate about the principle of "Music belongs to everyone" (the famous vision of Hungarian composer and music pedagogue Zoltán Kodály). NYCoS acts as its own publishing house – these are the books produced for educational use. NYCoS publishes 6 books of children's songs, games and rhymes with probably well over 400 songs and they want to ensure that they are appropriate for children to sing and adults to lead. They are therefore exploring the background of all songs and have made a connection with an American professor, Susan Brumfield, to advise on Unconscious Racism/Bias, Appropriation, Blackface, etc. with particular focus on children's folk songs/games.
NYCOS is a non-profit, registered charity company of Scotland. Between 2016-2019 was the member of a 6-strong consortium who successfully implemented the strategic goals of the Erasmus+ KA203 Strategic Partnership Project Kodály HUB - Sing. Learn. Share.