Presto Caprice Oy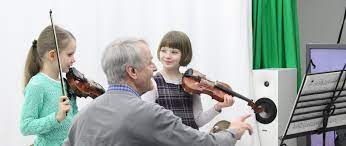 Caprice Oy organizes international distance teaching classes in music and is a pioneer in the field in Finland. Caprice provides expertise and services on distance education and consultation on the technical execution. The company also organizes music events, concerts and courses and it participates in music and video productions. Its mission is to spread the usage of distance learning in music, so that the possibilities of modern technology would allow more people to reach professional music education. Caprice has over 20 years of experience in organizing and developing distance teaching classes. The activities started in 1997 in cooperation with distinguished violinist Pinchas Zukerman, when the first distance teaching class was arranged from New York to Helsinki. Since then, the company has arranged distance master classes with many world-renowned artists, such as Gary Hoffman, Monica Groop, Hartmut Höll, Ralf Gothóni, Hagai Shaham and Yuval Yaron.
Diploma violinist Maarit Rajamäki founded Caprice Limited Partnership in 1991 that was converted to Limited Liability Company in 2010. Rajamäki works as Chief Executive Officer in the company. The clientele includes music institutions, universities, teachers, musicians and broadcasting companies around the world. In 2009–2011 the company organised international distance education classes for the Särestö Chamber Concerts Association, which was a partner organization in Interreg IV A Nord Programme Project Vi r Music. The project created an active cooperation network for virtual music education and involved e.g. virtual courses in musical subjects and the research and development of virtual music education.
Caprice is aiming at high-quality technical execution in all activities. The company possesses a small TV studio of high standard in East Helsinki, which is equipped with some of the latest teleconferencing technology for executing remote lessons as well as producing recorded video materials.
Since 2012 Caprice Oy has been working on International Minifiddlers project, a unique distance education program in violin studies developed by Caprice together with Hungarian-born Professor Géza Szilvay, the proprietor of Colourstrings method. It promotes children's culture and children playing music worldwide and gives music pedagogues around the world an opportunity to explore the Finnish high-standard musical education in detail. During 2012–2016 extensive Minifiddlers video materials (in total 124 videos) were documented together with Géza Szilvay. They show very systematically how to teach a child to play violin by using the Colourstrings method. In the video lessons Szilvay demonstrates the teaching with a group of children, focusing on one pedagogical topic in each video. Instruction starts from a very beginning of violin playing and it progresses step by step. At the same time, for the first time in the history of instrumental teaching, video materials document the weekly development of the same children during 5 years. The videos can be currently watched as a VOD service through the website www.minifiddlers.org. There are currently registered users from over 20 different countries.
From 2012-2016 a distance education program was piloted. Prof. Szilvay gave weekly online lessons to groups of children and their pedagogues around the world from initial stages with the Colourstrings method. This long-term distance education project was mainly intended for violin pedagogues. During 4 years interactive and real-time weekly distance lessons were arranged to 11 different countries around the world. The countries involved included Australia, Denmark, Faroe Islands, Finland, Germany, Greenland, Israel, Italy, Alaska, England and South Korea.
In 2013 International Minifiddlers received a Pro Musica prize in Finland and in 2015 it was nominated for the "Classical:NEXT Innovation Award" by an international nominating committee consisting of music journalists and bloggers. Widely renowned composer and conductor Esa-Pekka Salonen is the patron of Minifiddlers.