Roland Hajdu
27. July 2018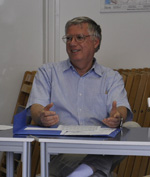 Coach - accompanist in the fields of art song, opera and chamber music.
Associate professor of the Zoltán Kodály Pedagogical Institute of Music.
Academic Preparation
Béla Bartók Conservatory of Music: 1960-1964, composition (Prof. István Szelényi). Diploma.
Liszt Ferenc Academy of Music: 1964-1969, composition and theory (Prof. Ferenc Farkas)
Diploma: composer and music theory teacher.
Weimar Music Academy (Germany): 1970-71, Scholarship of the Hungarian government.
Postgraduate studies:
- piano (Prof. Juliane Lerche)
- chamber music (Prof. Helmut Pfeuffer)
- vocal coaching (Prof. Elsa Standke)
Professional Experience
Teaching
1970, 1972: Weimar, International Summer Music Seminar: Vocal coach and chamber music.
1972-1975: Academy of Acting, Budapest. Vocal coach. Budapest Cultural Center. Artistic leader of the Opera Ensemble.
1974-1998: Liszt Ferenc Academy of Music, Budapest. Coach of the Voice Department.
1975-present: Zoltán Kodály Pedagogical Institute of Music, Kecskemét. Associate prof. in chamber music. Biennial summer courses of the Kodály Institute. (Vocal & chamber music). Yearly summer solo singing courses.
1982-1983: Southern College: Collegedale, Tennessee. Piano teacher and vocal coach. Cadek Conservatory: University of Tennessee, Chattanooga. Teaching piano.
1985-1994: American Institute of Musical Studies: Graz, Austria. Lied coach in the concert studio.
1991: New York. Master classes at Juilliard, Manasse and YMHA.
1993: England, Cheltenham. Summer Course of the British Kodály Society.
1994, 1995: England, Crowthorne. Summer Music Summer School: vocal coach.
1999, 2000: Majk, Hungary. Vocal coach at the Summer Master Vocal Course
2008: Seoul, Korea. Course for Singers
Performing
Germany: Arnstadt, Meiningen, Weimar, Berlin, Sonthofen, Isny: Lied and chamber music recitals.
Hungary: Appearances in Budapest, Kecskemét and in other towns of Hungary.
United States: Recitals in Collegedale/Tennessee and in Dothan/Alabama
Austria: Recitals with the students of the AIMS concert studio in Graz.
Helsinki, Finland. Accompanying at the Mirjam Helin Competition.
Rome, Italy: Recital with Kodály's works.
Rome, London, Athens, Katowice: Recitals from Kodály's works.
Czechoslovakia: Prague Spring Festival. Song recital with Ibolya Verebics.
Recording by Berliner Rundfunk: Song recital with Boldizsár Keönch.
Hungarian Radio: numerous recital appearances.
Discography
Kodály: Hungarian Folk Music - excerpts (2005)
Brahms: Liebeslieder Op.52 1991 ARTISJUS-BIEM EFMK-001 (LP)
Kodály: Two Songs from Op.9:
Ádám hol vagy? No.1
Erdõ No.5 2000 BIEM-ARTISJUS ZENCD-2000-03 (CD)
The recordings for further two CD-s are completed. One with songs by Liszt, the other with songs by Kodály.