International Kodály Certificate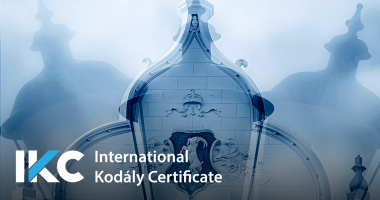 A brand new programme, a brand new design, a more comprehensive study opportunity for new and old fans of Kodály-inspired musical training offered by the Kodály Institute in Kecskemét and endorsed by the Liszt Ferenc Academy of Music in Budapest. 
A unique and unparalleled certification opportunity in the field of Kodály-based music education.
Rich musical inspiration and musical growth under the tutelage of the most sought-after Hungarian and international master teachers in the field such as Dr László Norbert Nemes, Kata Körtvési, Borbála Szirányi.  
Great opportunity for in-depth professional development not only for music teachers, but for musicians, too.
Take an advantage of the training modules that will enrich your teaching skills and repertory.
Acquire a wider set of tools and skills to create more enjoyable and more meaningful musical experiences.
Develop your musical understanding in a way that integrates both theoretical and practical aspects.
A two-week-long INTENSIVE BOOSTER SUMMER COURSE in Kecskemét followed by 20 ONLINE TUTORIAL SESSIONS throughout the academic year ending with an EXAMINATION WORKSHOP WEEKEND a year later. 
Online and face-to-face study programme, safe and supportive learning environment.
Option to register to the exam only.
Starting with various difficulty level options (from beginner to advanced level). 
More information at kodalycertificate.com.
Apply now!
Application deadline: 25 April, 2023