The internal renovation of the Institute has started
16 November 2021
The investment under the Modern Cities Program has been approved by a government decision recently.
The roof structure and the external façade of the building have already been restored by the Liszt Ferenc University of Music in the preparation phase. In the current phase, the complete interior renovation, modernization and accessibility of the monastery building will take place, while preserving the heritage values. Construction, scheduled for one and a half years, began on November 12, 2021, with the handover of the work area.
Regular updates on the project are available at the following link: Renovation
Meanwhile, preparations are underway for the construction of the second phase of the investment: the new wing and the Kodály Garden. The expansion according to the plans of the Mányi István Architect Studio includes modern educational, research and dormitory rooms, a concert hall for 350 people and a two-story underground garage. Part of the coordinated development is the future relocation of the Kada Elek Technical School to the new building complex in the former Rudolf Barracks.
Those interested can view the sketch plan at the following link (in Hungarian).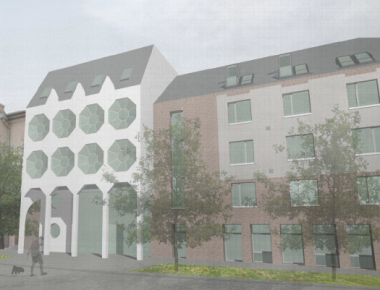 The development of the Kodály Institute of the Liszt Academy in Kecskemét, is carried out within the framework of the Modern Cities Program. Its aim is to provide the infrastructural background of the internationally renowned educational and cultural institution which preserves and nurtures the intellectual heritage of the world-renowned composer, musicologist Zoltán Kodály, to make the accumulated material and intellectual knowledge public. With the opening of a concert hall and event centre the town of Kecskemét receives a unique opportunity to strengthen its regional cultural leadership and international relations.