Moments of Appreciation
3 November 2021
During the course of the last two years, several outstanding faculty members stepped down from their positions as professors or research scholars at the Kodály Institute.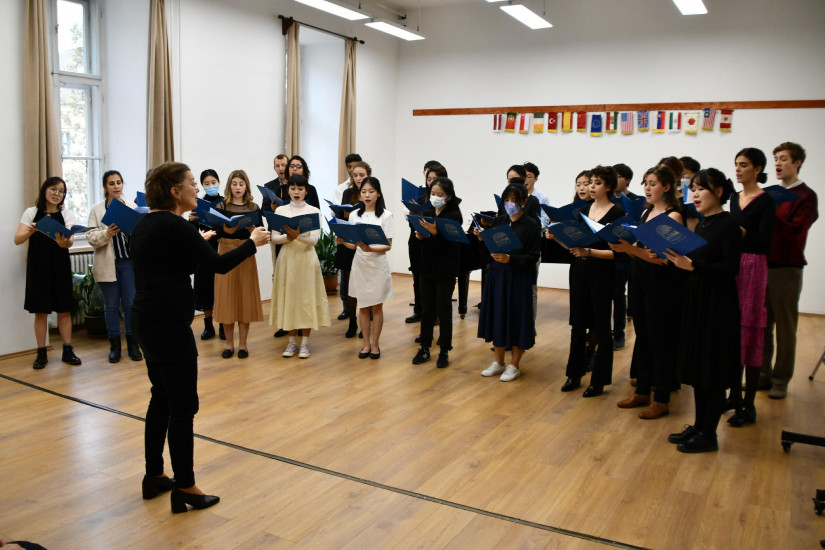 The Kodály Institute ever since it opened its gates in 1975 has been an inspirational place where a remarkable and unique group of individuals across various fields of music performance and education work together. Of course much has changed in the past forty seven years through the structural changes in the daily operation of the Institute, but regardless of all the changes around us, the faculty at the Kodály Institute always remained vital to the quality of academic programmes. Besides the highly qualified and dedicated teachers, the group of enthusiastic students studying with us are the most essential aspects of our every-day work. Everything else that happens alongside this is happening in support of the teaching and learning environment. Quality teaching, meaningful experiences, and learning that is measurable and relevant, are at the heart of our activities. The quality of our faculty has been and will remain a critical component in appealing to all those students whose educational goals align with our mission.
What is this mission?
The Kodály Institute's primary mission is to safeguard the musical and pedagogical legacy of the renowned Hungarian composer, educator and scholar, Zoltán Kodály, as well as to train foreign music pedagogues and musicians according to his concept of music education in English language. The Institute is the only school in the world where the Kodály Concept is fully applied to tertiary level of music training (yielding diplomas on BA (graduate) and MA (post-graduate) level) in a harmonious unity of in-depth theoretical education and diverse musical practices leading to the acquisition of a high standard musical knowledge and musical skills.
We consider Kodály's concept of music education as one of the most important, eternal, enduring, and value-preserving music pedagogical approaches, which over the course of many decades, has become a highly significant part of universal music culture. 
We continuously aim to convey Kodály's concept in the most professional and most authentic way possible through musical and music pedagogical activities, constantly and pliantly adapted to ever-changing cultural environments. 
The most important characteristics of the Kodály Institute's everyday life include the following pillars: high quality teaching, authenticity, international community and the sharing of the joy of music making.
This is our shared vision, the common purpose for our every day professional activities. I believe that our teachers and students working together constantly move toward the realisation of this common purpose. Our faculty members, being full-time or part-time, or adjuncts have never forgotten that they work for the benefit of our students in this nurturing academic environment. The projects that we run are carried out for the sake of enriching this academic environment where there is a high degree of respect for musical quality, musical and pedagogical excellence and various forms of talent. Nurturing of talent, enrichment of knowledge, cultivation of excellence, this is our call, this is our vocation. I am extremely proud to have been entrusted to be the leader of this remarkable place thirteen years ago.
During the course of the last two years several outstanding faculty members stepped down from their position as professors or research scholars at the Kodály Institute. Unfortunately the many uncertainties and the safety restrictions surrounding us over the past two school years prevented us from organising a proper retirement reception that finally happened on 22 October, 2021. 
Five of our former faculty members were invited to this occasion: 
Dr Gabriella Deszpot, former senior research fellow in the field of Kokas pedagogy
Péter Erdei, honorary professor of the Liszt Academy and founding director of the Kodály Institute
Roland Hajdu, former artist teacher in the field of chamber music
Dr Katalin Kiss, former associate professor in the field of musicianship training & choral conducting, and
Dr Orsolya Szabó, former associate professor in the field of piano performance and piano pedagogy
All of them are wonderful artists or remarkable scholars and excellent teachers who have, throughout their long professional career dedicated their work to the continuation of the great Hungarian tradition of teaching music. Over the past decades, these wonderful artists and scholars did not only shape the academic landscape of the Kodály Institute but have become iconic figures of the Kodály Institute through their craftsmanship, teaching and radiance. Their work will be remembered even after many decades. Their presence is already greatly missed as their absence is a great loss to the Institute. It is my paramount hope that we have not lost them for good and I hope that we shall have the opportunity to benefit from these exceptional people's talent in a different form, within a different framework, for the benefit of our students' musical enrichment. In the name of the Kodály Institute faculty I would like to express my sincere appreciation for their work during my thirteen-year directorship.
Dr László Norbert Nemes
Director