Launching the International Kodály Certificate this summer
10 March 2023
The International Kodály Musicianship Certificate is a new initiative that aims at raising awareness in the importance of general musicianship training for all professional musicians and music educators.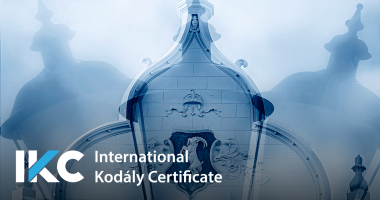 Having gained an in-depth insight into many academic programmes in the field of Kodály-based music teacher training and also into the aural skill training designed for professional musicians in various tertiary-level music education institutions over the past years I realised that in spite of the efforts of many outstanding musicians and music educators the benefits of vocal-based musicianship training promoted by Kodály has not been fully realised outside the circle of a community of music educators calling themselves Kodály teachers, or if these benefits have been recognised, programmes for aiming at achieving high standards were not properly implemented.
Discussions about enhancing awareness in the importance and the benefits of vocal-based musicianship training according to the Kodály Concept have been in the forefront of my discussions with many colleagues during the past years. Together with them I spent much time during the past years to develop the idea of IKC. 
It is also a general feeling among many of my colleagues that most Kodály-based training programmes lack the necessary and indispensable emphasis on musicianship training that is in the core of Kodály's philosophy of music education. We must all remember that studies in methodology cannot replace musicianship training. Good methodology comes from in-depth understanding of music. More musicianship less methodology is needed!!! I feel that the Kodály Institute can set an example with IKC in this regard. 
IKC is an opportunity for all those who wish to further improve their musicianship level through a well-structured and well-thought out system that besides assisting musicians in their endeavours to improve their musicianship and get recognition for their dedicated efforts it also guarantees solutions.
Dr László Norbert Nemes
Director 
More information at http://kodalycertificate.com