Kodály Seminar Online 2020
21 August 2020
This summer the Kodály Seminar was organized online offering live remote and pre-recorded sessions on methodology, musicianship, choral music, singing-based music history, piano and voice pedagogy, and individual piano and voice master classes for more than 200 participants from more than 30 different countries.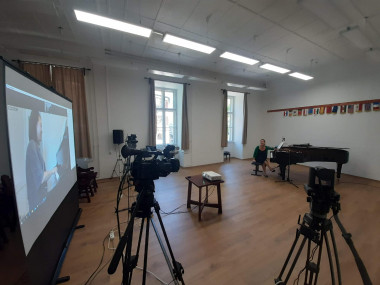 The Kodály Seminar Online 2020 was an important pilot project for the Institute this year, and it turned out to be a rewarding experience in many different ways.
As Dr László Norbert Nemes, Director of the Kodály Institute emphasized in his closing speech "escaping forward is the way when the situation is desperate. Instead of waiting for things to become normal again we need to become pro-active."
And the Institute became pro-active: it invested a lot of energy and money into creating teaching spaces that increases the quality of online teaching especially in the area of performance; brought IT devices - with the help of the Foundation for the Kecskemét Kodály Institute - and many different applications that substitute the traditional classroom environment and help to create an efficient learning space when offline teaching is not possible. 
At the same time the Institute learnt a lot about, Professor Nemes continues "what efficient teaching is about, most importantly how we can turn frontal teaching into a collaborative experience. Being an international institution we are hard hit by the consequences of the worldwide pandemic. But we shall not pull the blinds down, instead we open our windows and gates even wider and continue to reach out to the community of music educators even more. We want to connect with everyone who believes in the same values we believe in. To those who understand that the values of musical art and the joy of music making can only be transmitted to the next generation by teachers who are highly capable and properly trained musicians. All those who constantly want to become better. All those who believe that we can help in reaching their musical, pedagogical and artistic goals."