Zsuzsanna Takáts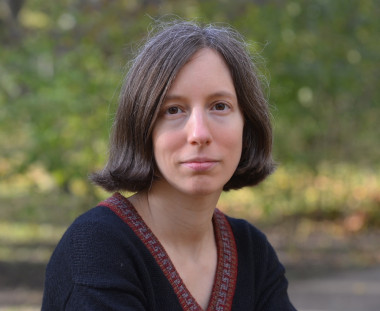 Ms Zsuzsanna Takáts was born in Tatabánya, Hungary on July 15, 1981.
She has been playing the piano since her age of six. She won first prizes and special prizes at numerous piano competitions organized by state music schools and/or counties.
At the age of 12, she gained admission to the Hans Richter Conservatory at Győr where she studied for two years under Ms. Csilla Kerékgyártó.
She won Third Prize at the National Piano Competition of State Music Schools in 1995.
Ms Takáts had completed her conservatory level studies at the Bartók Béla Conservatory in Budapest under Prof. Judit Kékesi and graduated there in Piano Performance. She was a regular participant at master courses and played for piano master teachers such as Zoltán Kocsis, Ferenc Rados, Kornél Zempléni, Gábor Csalog or Imre Rohmann.
In 1997, she won First Prize and an additional Special Prize at the Dr. Roman Klasinc International Piano Competition in Maribor, Slovenia. She also won Special Prize at the Békéstarhos National Piano Competition among all Conservatories.
Upon completing her secondary level studies, she gained admission to the Franz Liszt Academy of Music, where she studied under Profs. András Kemenes, István Lantos and Dénes Várjon. Ever since Ms Takáts entered the Academy, she came into regular working contact with György Kurtág. The fruits of these studies were the successful renderings of many important solo - and chamber works, regularly presented at recitals. In 2002, she was a participant of the International J.S.Bach Competition in Leipzig, Germany.
Ms Zsuzsanna Takáts was the sole winner from the Liszt Academy of the prestigious Joseph Weingarten Scholarship and as a result she spent her fourth academic year as an exchange student at the University of Central England Birmingham Conservatoire, where she studied with Profs. Malcolm Wilson, Philip Martin and Rivka Golani (chamber music). Ms Takáts played a significant role in the school's life both as a soloist and as a chamber musician in both classical and contemporary repertories. The school delegated Ms Takáts to participate at the Géza Anda International Piano Competition in Zürich, Switzerland (2003).
The master classes of Dmitri Bashkirov and Edith Fischer further contributed to Ms Takáts' formation as a pianist.
While visiting Canada for the first time (in 2003-2004), Ms. Takáts gave numerous solo and chamber music recitals to great acclaim.
In 2005 she received a Red Diploma with Honours in Piano Performance and Pedagogy from the Liszt Academy. As part of her graduation, she submitted her thesis under the title The Significance of Musical Texture and Changes Concerning its Role in Works by Schubert and Mahler.
From 2005 to 2018 she resided and taught in Saskatoon, Canada, actively contributing chamber music and solo recitals of both classical and contemporary repertories to concert series at the University of Saskatchewan.
Ms. Takáts received her doctoral degree (DLA) with the outstanding summa cum laude qualification in Piano Performance from the Franz Liszt Academy in 2015. During her doctoral studies her musical supervisor had been Prof. Rita Wagner, while her research was conducted under the supervision of Dr. Miklós Dolinszky. Her doctoral dissertation is entitled Interpretation and Notation in the late piano works of Franz Schubert.
Ms. Takáts relocated to Hungary in 2019. She is giving recitals regularly with programs fusing contemporary and XXth Century works with older music, revealing the newness and contemporary nature in older works while exposing the strong roots of tradition in newer ones.
From 2021 she has been teaching piano and chamber music at the Kodály Institute of the Liszt Ferenc Academy of Music, thoroughly enjoying its diverse international clientele.
Excerpts from Letters of Recommendation Written for Zsuzsanna Takáts:
"She is an excellent pianist and a veritable musical thinker, which makes our working together most joyful and inspiring." (Rivka Golani, leading viola player; Professor of Viola and Chamber Music, Birmingham Conservatoire, England)
"...I came to know her as a very promising musician of exceptional talents. I have had much pleasure myself in experiencing her special ability to respond to every possible musical ( and pianistic!) question in a subtle and complex fashion." (György Kurtág, one of the leading composers worldwide and winner of the 2005 Grawmeyer Award)
"She has a wide ranging repertoire, and always displays well-developed technical skills and sensitive musicianship." (Dénes Várjon, concert pianist, Professor of Piano, Liszt Ferenc Academy of Music, Budapest, Hungary)
"I have found Zsuzsanna to be an inspired and dedicated pianist who demonstrates a wide ranging technique and musical grasp. In public she shows considerable performance flair and sense of musical involvement which forms a secure relationship with her listeners." (Malcolm Wilson, Professor of Piano, Birmingham Conservatoire, England)
"An extraordinary talent, she is a musician blessed with exceptional sensitivity... She is endowed with great perseverance, is extremely demanding of herself and is a personality of great character." (András Kemenes, concert pianist, Professor of Piano, Liszt Ferenc Academy of Music, Budapest, Hungary)
"She is a technically well-equipped pianist and a highly talented musician." (István Lantos, Chair, Department of Piano, Liszt Ferenc Academy of Music, Budapest, Hungary)