Zita Váradi DLA
Position at the Institute: Lecturer
Subject taught: Voice Training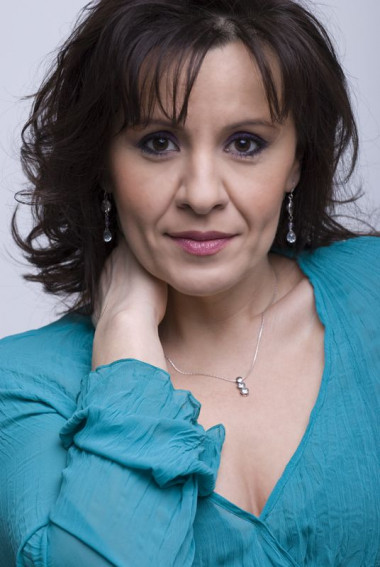 Photo: Attila Monoki
Zita Váradi graduated from the Liszt Academy of Music, Budapest in 1996, where she studied under Professor Erika Sziklay. Shortly after, she made her debut at the Csokonai Theatre in Debrecen as Nedda in Leoncavallo's Pagliacci.
During her university studies and frequently thereafter she was awarded numerous prizes at international competitions and festivals, including at the C. A. Seghizzi solo voice competition in Gorizia in 2000, 1st prize at the Franz Lehár competition in Komárno in 1995, 2nd prize at the Katia Ricciarelli singing competition in Mantova in 1994, the Primadonna prize at the Budapest Spring Festival in 2000 for her performance as Madeleine in Ábrahám Pál's Ball at the Savoy, and the Grand Prix in 2001 for her performance as Adele in Johann Strauss's Die Fledermaus (where she also received the audience prize), Foto-Art prize in 1998, and Rubányi Vilmos prize in 1997 for her work at the Csokonai Theatre.
Over the past 25 years she has worked with numerous orchestras and conductors in Hungary and abroad, both as a soloist and as an opera singer. Her most important opera appearances include: Susanna, Norina, Adina, Musetta, Pamina, Michaela, Nedda, Zdenka, Liú, Madame Lidoine, Najád, Frasquita, Marzelline, Zerlina, Clorinda, Lauretta, and The French Princess.
Since 2001 she has been a soloist with the Hungarian State Opera, which recognised her as the Singer of the Year in 2012.
In 2016 she received the Knight's Cross of the Order of Merit of the Hungarian Republic.
She received her DLA degree in 2018; the title of her doctoral thesis: Female characterisation in nineteenth century comic opera: origins, interpretative issues and stylistic interpretation.
In 2019 she joined the faculty of the Kodály Institute of the Liszt Academy of Music as a Teacher of Singing.