Máté Balogh DLA
Position at the Institute: Lecturer
Subjects taught: Music Theory, Basso Continuo, Kodály's Lifework, Choir Literature, Hungarian Music History after 1945, Score Reading, Contemporary Music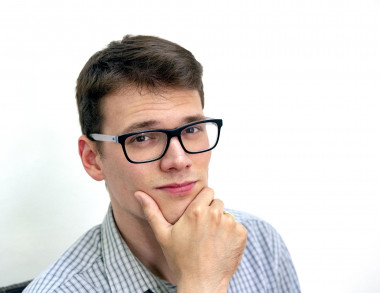 Photo: Gábor Fejér
Education:
Composition major studies BA (2009-2012), MA (2012-2014) and DLA (2014-18) at the Liszt Academy of Music, Budapest with professors Zoltán Jeney, László Vidovszky.
During his MA studies he spent a semester at the Consevatorio di Trieste, Italy, to study with prof. Fabio Nieder.
DLA dissertation: The Vocal Art of András Szőllősy (2018) 
Mastercourses with Péter Eötvös, György Kurtág, Heinz Holliger, Larry Polansky, László Sáry. In 2013 he was qualified for the Péter Eötvös Foundation chamber opera project with his piece 'Out at S.E.A.'.

Teaching experience:
2017 – present: Teaching the aforementioned subjects at the Kodály Institute of the Liszt Academy of Music
2018 – present: Teaching Music Theory in the Music Theory Dept. at the Liszt Academy
2014 – 2018: Teaching orchestration, contemporary music and score reading in the Composition Department at the Liszt Academy of Music, Budapest

Masterclasses, guest teacher: Guest teacher in Music Theory subjects at the University of Alabama, Huntsville; in composition subjects at Shanghai Conservatory of Music.
Máté Balogh is one of the most successful young composers in Hungary, a multiple contest winner whose pieces have been premiered and performed all over Europe, as well as Turkey, China, Taiwan, Japan and the United States (see his YouTube and SoundCloud channels).
He was one of four young European composers whose pieces were performed by the Sturm und Klang Ensemble in Brussels, BOZAR at the Conference of the European Composer's and Songwriter's Alliance in 2015.
His piece Odes (诗经), commissioned by the Cultural Ministry of the People's Republic of China, was premiered in Shanghai by the Shanghai Symphony Orchestra in 2017.
He is the composer for Zsófia Szilágyi's film One day, awarded the Fipresci Prize at the Cannes Film Festival in 2018.

Major competition results:
- New Hungarian Music Forum (UMZF) Composer Competitions
2013 – 3rd prize for Notturni a L;
2015 – Absolute 1st prize for Melodiemusik; 2nd prize for Quintet;
2017 – Absolute 1st prize for Pseudomarsch
- GENERACE composer competition in Ostrava – third prize for the Bahnmusik in 2020, special mention for The Labyrinth of the World and the Paradise of the Heart in 2015
- Composition Contest of the University of Theatre and Film, Budapest – 1st prize in 2010
- Composer Competition of the Hungarian National Choir – 1st prize in 2011
- 1st Beethoven Composer Competition in Budapest – 2nd Prize in 2018
- Central European String Quartet 2nd International Composition Competition - Support Excellence Award for "Recitativo prosecco" in 2020 
- Salvatore Quasimodo Poetry and Song Contest in Balatonfüred, Hungary - 1st prize for "The Best Song" in 2020
- II. Impronta Ensemble Composition Competition in Mannheim - 3rd prize for Der Rhein am Tomasee

List of works:
Available here in a PDF file.

Other artistic activities: 
- Co-founder of the Capella Silentium Chamber Choir
- Co-founder of the CentriFUGA Contemporary Workshop 
- Co-founder of the Hermina Gallery, Budapest 

Other activities:
2021 – present: invited expert of the choral strand of the Erasmus KA226 collaborative project called PRESTO - Practices and Resources for Equipping Schools to Teach Music Online
2018 – present: Editor – Universal Music Publishing Editio Musica
2017 – 2018: Editor-in-Chief – Universal Music Publishing Editio Musica

Awards: 
Artisjus Prize (Junior-Composer of the Year, Hungary) in 2016
Junior Prima Prize in 2018
Erkel Prize in 2022

Memberships: 
Classical Music Reviewer Committee of Artisjus
President of the Hungarian Composer's Union since 2021
SoundCloud: https://soundcloud.com/m-t-balogh-2 
YouTube: https://www.youtube.com/channel/UC9qUrkFNZYZPOaHK4tPWQBg 
Website: http://baloghmate.com