Dr Mihály Ittzés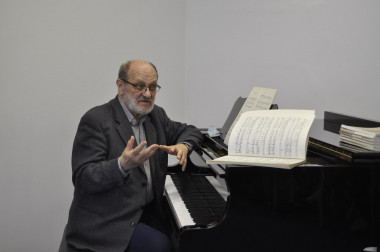 Dr Mihály Ittzés (1938-2018), music teacher and choir conductor, was born in Sárkeresztúr. He obtained his diploma in 1963 at the Liszt Ferenc Academy of Music, majoring in vocal teaching and conducting. Between 1963 and 1970, he taught solfège and theoretical subjects at his high school, the Vocational School of Music in Győr, and conducted the school's student orchestra for several years. In 1970, he became a teacher and choir director at the Kodály School in Kecskemét. He came to Kecskemét because of the organization of the Kodály Institute and the Kodály Seminar. Since the establishment of the Institute, i.e. since 1973, he was a teacher of the Institute, head of the library, organizer and instructor of the Kodály seminars. From 1980, he was the Institute's deputy director. He retired in 2001 but he continued his work as a part-time researcher and lecturer until his death.
He did irreplaceable work in the training and further training of singing and music teachers in the region, and even in the entire country. His expertise was used by many civil organizations. He was the professional creator of the Zoltán Kodály Festival. He regularly taught and lectured at international music courses, conferences, and symposia.
His main field of research was the life and work of Zoltán Kodály, but he also dealt with other issues of Hungarian music history. He published several articles on Liszt and 20th-century composers. He wrote a small monograph about Lajos Bárdos (2009). A selected volume of his studies entitled 22 musical writings was published in 2000, and in 2002 he defended his doctoral dissertation in musicology entitled Zoltán Kodály, In Retrospect, which he defended at the University of Jyväskylä (Finland).
His thousands of articles were published in Hungarian and English in various newspapers and magazines. He was the editor of several books, primarily publications published by the Kodály Institute.
He was co-chairman (2007-2012), then president (2012-2018) of the Hungarian Kodály Society, vice-chairman of the International Kodály Society (1993-2001). He was a member of the Music Board of the National Cultural Fund (NKA) from 2001, and was president of the Board between 2003-2005. He was a corresponding member (2012) and then a regular member (2014) of the Hungarian Academy of Arts (MMA). In 2018, MMA made a portrait film about him.
Among his awards, we highlight the Apáczai Csere János Award (1988), the Kóta Award (2009) and the Bence Szabolcsi Award (2011).
His legacy will be preserved by the Kodály Institute, and his writings will be available online.