Bálint Gyombolai
Position at the Institute: Lecturer
Subjects taught: Conducting, Musical Acoustics, Musicianship and Methodology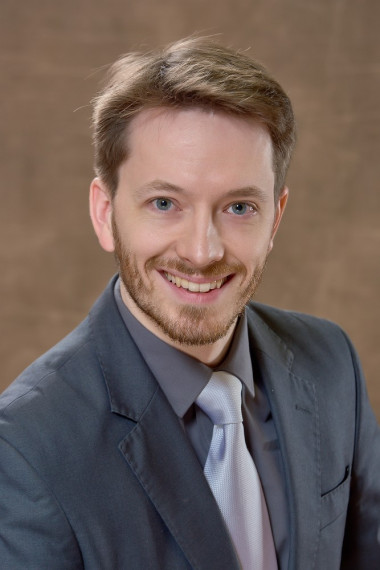 Photo: Hermányos Fotó
Education:
2009 – Diploma in music teaching and choral conducting at the Liszt Academy of Music, where he studied under István Párkai.

Masterclasses:
He completed courses at Paul Crabb, János Czifra, Josep Vila I Casanas, Helmut Rilling, Peter Schreier and others.

Teaching experience:
2015 – present: Lecturer at the Kodály Institute of the Liszt Academy of Music in Kecskemét.
2015 – present: Regular teaching and leading of workshops as guest teacher in China.
2012 – present: Teacher, choir conductor and Head of Music Department in the Mihály Vörösmarty Music and Grammar School in Budapest. This school is a fine example of the Hungarian music education system and the Kodály concept, so its demonstration lessons are frequently visited by foreign music teachers and conductors.
2006 – present: He regularly conducts 'Drama and playing in pedagogy' and community leader courses.
2008 – 2012: Music teacher and later Principal of primary school called 'Búzaszem', a school applying reform pedagogy and innovation in the curriculum of academics and art subjects.

Artistic activities
as choir conductor:
2018 ‒ present: Founder and conductor of the 'Choir of Dunakeszi', mixed choir of adults in his hometown
2016 ‒ present: Regularly participates in Hungarian qualifying concerts as jury member
2012 – present: Leader of the Vörösmarty Girls' Choir, one of the most significant and successful youth choirs of equal voices in Hungary (see Competition results). In the summer of 2017 the ensemble performed and took part in the Shanghai International Youth Music Camp and Festival in China.
They regularly participate in the Hungarian Young Conductors' Competition as the demonstration choir in the semi-finals (https://www.youtube.com/watch?v=1zFe5u3bjZE, https://www.youtube.com/watch?v=WD4LGIldXuE).
2007 – 2017: Working in the 'Szórvány' Choir Camp in Serbia involving the Hungarian ethnic minority there
2002 – 2007: Founder of the chamber choir 'Phausis' formed by then university students. The choir  has taken part in several noted concerts in the Grand Hall of the Liszt Academy of Music and the Palace of Arts (MÜPA).

as a solo singer and choir member:
2010 – present: One of the founders and soloists of the New Liszt Ferenc Chamber Choir under conductors Péter Erdei and László Norbert Nemes 
2002 – 2009: Member and soloist of the Alma Mater Choir of the Liszt Academy of Music under conductors István Párkai and Péter Erdei.
As a tenor soloist he has performed in the following pieces: J. S. Bach: Magnificat; J. S. Bach: Cantata No. 110., No. 142.; M. Duruflé: Requiem; C. Fictoor: Lányi-Requiem Z. Kodály: Missa brevis; F. Poulenc: Mass in G major; H. Schütz: Magnificat and more.

others:
2000 – present: Playing jazz and pop music as a songwriter, guitarist, singer and arranger (https://www.youtube.com/watch?v=AJOn8U6hKQk)

Competition results:
Recent achievements of the Vörösmarty Girls' Choir under his leadership:
- III. Vándor-Révész Choral Competition in Budapest, 2018 – winner
- Béla Bartók international Choir Competition in Debrecen, 2018 – 3rd prize
- Budapest International Choir Competition, 2015 – Golden Diploma for the choir and Conductor Prize for him
- 'Éneklő Ifjúság' (Singing Youth) national qualifying competition in Hungary, 2013 – winner and Golden Diploma