Árpád Tóth DLA
Position at the Institute: Lecturer
Subjects taught: Choir Literature, Choral Conducting, Vocal Ensemble, Methodology, Solfége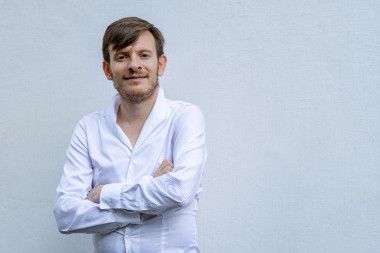 Photo: Gábor Fejér
Education:
He studied Harp and Music Theory at Béla Bartók Music Secondary School.
He received his MA in Music Theory in 2006, and in the same year received his second MA (Summa cum Laude) in Music Education and Choral Conducting from the Liszt Academy of Music, Budapest. His third MA (again Summa cum Laude), in Solfége Teaching, was granted by the same institution in 2012.
In 2012, he completed his doctorate (DLA) in choral conducting, the title of his thesis was "… A Mother's Voice is the law, the gravitation… The life and oeuvre of Jenő Szíjjártó, a distinguished composer of the Hungarian minority in Slovakia"

Teaching experience:
2012 – present: Lecturer of Methodology, Solfége, Chamber Music, Choral Conducting at the Kodály Institute of the Liszt Academy of Music



2006 – present: Music Teacher, Choral Director, and opera company Artistic Director of the "KISKÉPZŐ"Secondary School of Visual Arts, Budapest, HUNGARY (the practising school of the Academy of Fine Arts)

Masterclasses, guest teacher:  
He is one of the most internationally sought after faculty members, delivering numerous masterclasses and courses in the following countries: Germany (2006- ), Slovakia (2006- ), Romania (2007- ), South Korea (2014- ), England (2014- ), Scotland (2018- ), Italy (2015- ), Australia (2016- ), The Netherlands (2016- ), Ireland (2016), China (2016- ), Philippines (2018- ), Mexico (2017), Malaysia (2018), Denmark (2019), Japan (2020) and the USA (2020).

Artistic activities: 
- In 2004 he founded a community choir which was named "Csíkszerda" in 2009 (Csíkszerda means Striped Wednesday – when everybody wears striped T-shirts, and Wednesday is the day of the weekly rehearsal): https://www.youtube.com/watch?v=Baicb0DReI8. The choir has become so popular for its unparalleled atmosphere, that by today it has grown to become the largest community choir in Hungary, with 250 members and various subgroups within: https://www.youtube.com/watch?v=z55-BN0lzOs. Árpád has created a special choir improvisation technique with the choirs: https://youtu.be/pKN1U7h4MPc.
- He is a permanent Hungarian guest conductor of the Lajos Vass Choir – The Choir of the Hungarian Pedagogues in Slovakia.
- He is the founding Artistic Director of the Night of Choirs (Hungary's largest one-day community choral event).
- He is the founding Artistic Director of the 'Hajnalok Völgye' (The Valley of Dawn), the first Slovakian contemporary choir festival.
- He has a special interest in contemporary music, and has conducted more than 30 premieres.

Major competition results:
4th International Choral Conducting Competition, Budapest (2007) - Special Prize
First Hungarian Choral Conducting Competition (2005) - 1st prize, Audience Prize

Other activities:
He has delivered several TED talks about his firm belief that singing connects people with each other (https://www.youtube.com/watch?v=D_wM8bjQ_KE&feature=youtu.be).

Awards: 
Artisjus Contemporary Music Award (2010)