Anikó Novák
Position at the Institute: Master Teacher
Subjects taught: Piano, Piano Pedagogy, Creative Piano Pedagogy (ZeneZen)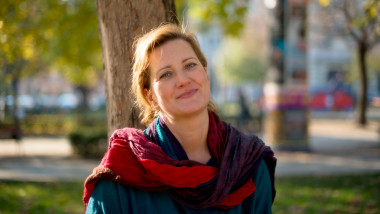 Photo: Zsuzsa Ágoston
Pianist Anikó Novák was enrolled in the Exceptional Young Talents' Class of the Liszt Academy of Music, Budapest when she was 12. She continued with her graduate studies at the Liszt Academy, where she finally received her master's degree in piano in 1994. Her most influential professors were Gyöngyi Keveházi, György Nádor, Mihály Bächer, Ferenc Rados, and Sándor Falvai.
During her studies she participated in masterclasses by András Schiff and György Sebők. In 1989, as a student, she won the Best Accompanist Prize at the International Cello Competition in Varna (Bulgaria), and in her 4th year she was awarded the Best Pianist Prize at the Liszt Academy. While still studying at the Academy, she was the piano accompanist for the violoncello lessons of Ede Banda, highly acclaimed professor and artist.
In 1995 she joined the internationally acclaimed Hungarian Radio Children's Choir as a soloist and accompanist, resulting in frequent touring and numerous recordings. Her CD of Bach-Beethoven-Schubert sonatas with double bass player Zsolt Fejérvári was released in 1996.
She has given solo and chamber concerts in major European cities (e.g.: Budapest, Vienna, Munich, Cologne, Milan, Amsterdam, Stockholm, Roma, Cremona, Palermo, Torino, Linz, St. Petersburg, Katowice, Stuttgart), in the USA, Japan, and Taiwan. She has worked with artists including Philip Glass, Dennis-Russel Davies, Barnabás Dukay, Edit Klukon, Zoltán Kocsis, András Schiff and Tamás Vásáry. As a chamber musician she has accompanied trios, quartets and instruments ranging from violin and cello to tuba, flute and clarinet. In 2001 she was the first Hungarian artist to give a recital in the Young Talents concert series at the Kennedy Center in Washington DC.
While still performing regularly in solo, chamber music and choral concerts, her activities have been complemented by teaching and creative music pedagogy. She has gained extensive teaching experience through working with different levels and age groups:
1989 – 1995: As a university student she taught piano for the members of the Hungarian Radio Children's Choir.
1996 – 1998: She was enlisted by the Bartók Béla Music Institute of the University of Miskolc in Hungary to teach piano.
1999 – 2003: She lived in Washington DC, USA where she was invited to teach piano for kids on a voluntary basis in a newly established art school, the Sitar Arts Center.
2004 – 2010: She taught secondary piano at the Music Theory - Solfège - Conducting Deptartment of the Teacher Training College of the Liszt Academy.
2010 – present: Currently as a faculty member of the Kodály Institute of the Liszt Academy, she teaches piano, piano pedagogy, and chamber music.



Anikó Novák & Irene Verburg performing Kodály
Together with
Katalin Körtvési
, they offer "
ZeneZen
" ('zene' means 'music' in Hungarian) as an elective creative pedagogy course which is based on the principles of Kodály's philosophy and Kodály's disciple Klára Kokas' pedagogy.
In piano or any instrumental or general music pedagogy, no matter what  your musical interests or experiences as a teacher or performer are, the fusion of the training of general musical skills based on the Kodály concept with the experience of free movement improvisation according to Klára Kokas' pedagogy provides a holistic basis for all musical understanding and learning. ZeneZen course participants are guided towards musical discoveries through singing, movement, listening, imagination, full self-immersion, improvisation and instrument playing.


A Film on ZeneZen in Sichuan

Since its launch in 2016 ZeneZen has been introduced in numerous training events all over the world, including but not limited to the music universities of Tallin, Helsinki, Den Haag, Tbilisi, Barcelona, Sichuan, and was presented at International Kodály Symposiums (2017 Canada, 2019 Malaysia) as well as in various Kodály training events organized by the Hungarian Academy in Rome and by the British Kodály Academy.


Websites: http://novakaniko.com/, http://novakaniko.com/zenezen/