CDs, DVDs, DVD-ROM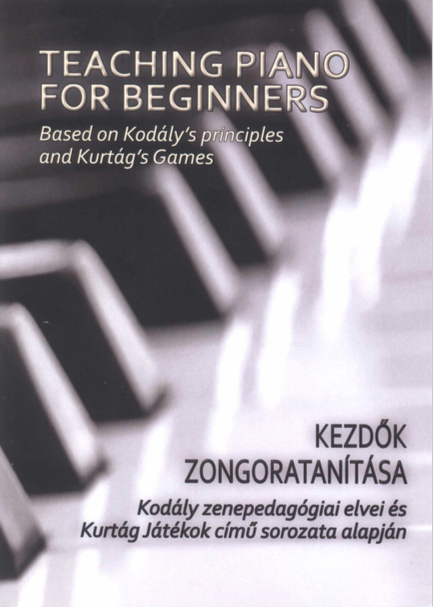 Title: Teaching Piano for Beginners
Publisher: Liszt Academy, Budapest
Language: With explanatory booklet in English and Hungarian
Price: 4000 HUF
DVD description:
New approach to teaching piano for beginners: documentation of the teaching experiment led by Zsuzsa Héjjas, piano and solfege teacher (primary and tertiary level), which combines the vocally based music pedagogical concept of Kodály and Kurtág's playful piano pieces. With lessons excerpts and methodological explanations.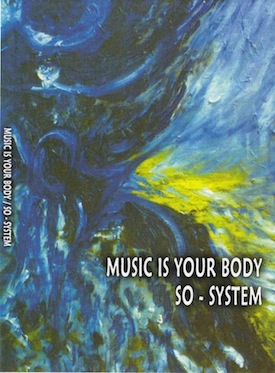 Dr. Orsolya Szabó:
Music is Your Body: So-System
Price: 4000 HUF
CONTENT:
- Portrait of the Artist, Orsolya Szabó
- History
- Theoretical introduction to SO-SYSTEM
- Exercises without instrument - Mute music
- Exercises with instrument - Audible music
- Feedback
- Summary
Acknowledgements to all the students who participated in the film, the students of the Liszt Academy of Music (Budapest) and the Kodály Institute (Kecskemét).
The film was made by Erzsébet Kállai, Nigel Hancock, Albert Pálinkás in the Stúdió of the Kodály Institute. Screenplay & Director Dr. ORSOLYA SZABÓ
From the DVD-cover:
"I recommend this film to musicians who want to speak and express the language of music just like their mother tongues. It is a Guide to Freedom of Artistic Expression.
Hungarian musicians are extremely fortunate being nurtured by the world famous music pedagogical philosophy and practice of Zoltán Kodály.
One of his basic tools of learning and understanding music easily by developing the inner-hearing ability is the so called: relative solfa system.
This brilliant simplicity gave the idea to establish another relative system which analyses all the movements that the music itself does and also analyses all kinds of movements that the musician has to do while performing.
This new music pedagogical method is called: RELATIVE MOVEMENT SYSTEM, briefly SO-SYSTEM."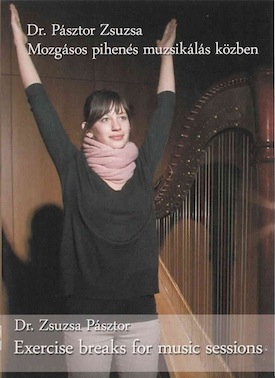 Dr. Zsuzsa Pásztor:
Exercise breaks for music sessions
Price: 4000 HUF
About the DVD:
According to statistics published in Hungary and abroad, some 50-80 percent of pupils and adults who play music suffer occupational injuries in the course of their work, mainly affecting the motor system and the nervous system. This percentage increases proportionately to the number of years spent pursuing a musical career. One of the main causes of the occupational injuries is that young people and adults who play music are unaware of the occupational hazards and the methods of prevention, because to this day such skills are taught in only a few places. One of the most fundamental aspects of protecting against occupational injury is the proper dosing of practice time. The organs, tissues and cells that are worked in the course of long practise sessions and marathon rehearsals become exhausted, leading first to functional and then to structural changes. Deep fatigue that dulls the music, and strains, can be avoided with the right work schedule. Practice should be divided up into short sessions, and before each session a few refreshing exercises should be performed, to relieve nervous tension and relax the weary organs. This film gives a brief taste of the rich repertoire of exercise breaks suited to various fields of musical practice, from the level of the beginner to that of the professional artist, in real everyday situations, music lessons, rehearsals, practice sessions and public performances.
The following items are published by the Foundation for the Kodály Institute:
Title: Kodály's works for mixed choir and organ (audio CD)
Performers: Cantus Nobilis Choir of Kecskemét, conductor: János Laczkó, organ: László Révész, soloists: János Klézli, Ágnes Anna Kun, Dániel Potyók, Ildikó Szakács, Edit Szappanos
Contents: Pange lingua - Missa brevis - Geneva Psalm CXIV - Laudes organi
Price: 2500 HUF
The CD, published in December 2007 for the Kodály Anniversary Year, was sponsored by the company, Knorr-Bremse Fékrendszerek Ltd., Kecskemét.
 
Title: The Kodály Concept of Music Education (DVD-ROM)
Editors: Sarolta Platthy, Dr Mihály Ittzés
Advisor: Péter Erdei
With a representative selection of demonstration class videos from kindergarten to secondary school and choir.
With English and Hungarian texts and videos.
Contents: Welcome - Kodály's Life - The Kodály Concept - Demonstrations - Extra Features - On the Foundation - Impressum
Price: 4000 HUF
Further information:
The DVD-ROM was published in 2007 by the Foundation, as a revised edition of the 2006 DVD-ROM published under the same title and sponsored by the Hungarian Ministry of Foreign Affairs and the Kodály Heritage Programme of the Town of Kecskemét.
Also distributed by Editio Musica Budapest.
 
Title: Kodály: Hungarian Folk Music - excerpts (audio CD)
Performers: Katalin Szutrély, János Klézli (voice) and Roland Hajdu (piano)
Contents: Which one I should marry? - Wheelcart, barrow - Woe is me - All the hemp - Lovely is the forest -Woman, woman, out of your bed! - In the forest - I have but just arrived - Love's Anodyne - A Psalm of Supplication - A little sad song - The ferryman - Kitty and Johnny - Piper Johnny - In the cornfields - Far away - My geese - Hey! The wine of Mohi vintage - Mistress Prue - Sit and drink all Sunday - I am old and bald now - From distant mountains - The young wife; Hear the rushes rustling - Do not come to-night - Now I've paid a hundred thalers
Price: 2400 HUF
Further information:
Katalin Szutrély, János Klézli and Roland Hajdu, professors of the Kodály Institute, are performing a selection of Kodály's folksong arrangements on this CD which was first published in 2005 by the Foundation, with the financial help of the Hungarian Ministry of Foreign Affairs. A second edition of the CD was published in 2007 with the support of Knorr-Bremse Fékrendszerek Ltd., Kecskemét.
For more information on how to obtain copies please contact us at archivum [at] kodaly [dot] hu.